Pre-Ballet Classes
Pre-Ballet 2017-2018
Creative Dance 4 years onward
Pre-Primary 5 years onward (kindergarten)
Primary 6 years onward (First grade)
The Pre-Ballet classes for younger children Age 4 to 7 years are preparation for readiness in classical ballet. Minimum age cut- off dates is January 1 and August 1. Fall term students must reach the minimum cut-off date by August 1 2017. Spring term students must reach the minimum cut-off date by January 1, 2018. No audition required.
Parents are invited in the fall to observe the classroom work. Parent-Watch is held November 13th–17th, and is offered only during the fall term. Please mark your calendars.
Pre-Ballet Students also participate in the all school performance at Year's end.  This event is held at the Mercer Island high school performing arts Center and is a requirement for all students enrolled in the school.
Tuition/Policies
Students are registered on a yearly basis.  Tuition may be paid in semester or monthly installments.  For monthly installments:
Please provide 10 pro-rated monthly checks Fall/Spring Terms
Or credit card for monthly installments
Once classes have begun, tuition is not refundable.  Students who miss class or withdraw before the end of the semester are still obligated for the semester's fees, whether they are paying on a semester basis or monthly installments.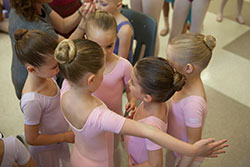 Class Schedule / Attire List
| | | | | |
| --- | --- | --- | --- | --- |
| Class | Instructor | Day | Time | Uniform |
| Creative Dance | Valencia | Wednesday | 1:15 –  2:15 | Pink |
| Pre-Primary | Valencia | Monday | 4:15 – 5:15 | Lilac |
| Primary | Valencia | Wednesday | 3:00–4:00 | Marine Blue |
*Please see Regulation Uniform / Attire List
Tuition
Pre-Ballet
Class / Level
Year in Full with EBD*
Biannual Installment with EBD*
Biannual Installment Amount After closing date
Monthly Installment Amount
Creative Dance
$1,018.00
$509.00
$550.00
$110.00
Pre-Primary
$1,170.00
$585.00
$600.00
$120.00
Primary
$1,170.00
$585.00
$600.00
$120.00
All School Performance 2018*
*This event is an enrollment requirement for all Pre-Ballet students
| | | |
| --- | --- | --- |
| Special Events | Required | Fee due May 1, 2017 |
| All School Performance 2016 | Pre-Ballet | $175.00 |
| June 15, 2018 7PM | Fee is per family | |